Custom domain: your own URL at the checkout process
The big moment has arrived: checkout. Suddenly, an external screen pops up out. An obstacle during the payment process. Are the security lock 🔒 and https:// visible? ✔️ Check.  Yet the URL states pay.buckaroo.nl or betalen.buckaroo.nl. Not an ideal situation for all merchants, for it is not common knowledge that Buckaroo is a payment service provider. This could create confusion. Therefore, Buckaroo is introducing a new functionality: custom domain. Enabling your webshop to use its trusted custom URL during checkout*.
* Look at the following example.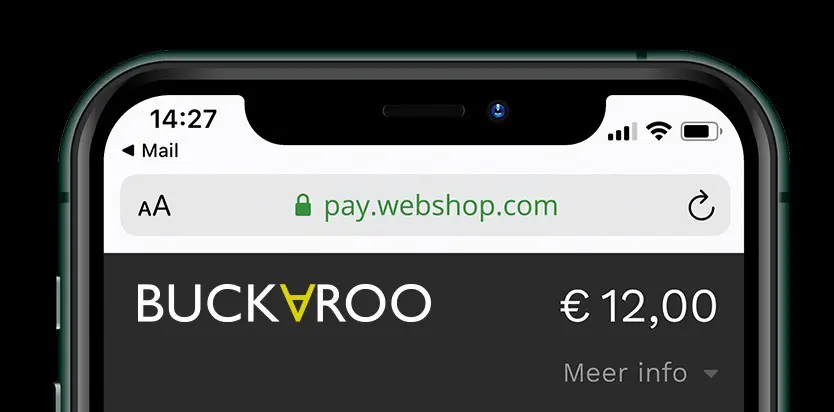 Safe payment by recognition
In order to offer you a secure and comfortable payment experience, we at Buckaroo happily withdraw into the background while maximizing the visibility of your webshop. As far as is permitted by technique and safety. With Buckaroo's smart checkout, you can create the look and feel of your checkout and process credit card payments safely using client-side encryption. Meanwhile, we've ensured that the name of your webshop or business is clearly visible during each iDEAL payment. Nevertheless, major merchants frequently ask whether they can use their custom URL during checkout. Yes, they can. Accordingly, Buckaroo has developed a new functionality: custom domain.
"Can we use our custom URL during checkout?"

— FAQ raised by corporate clients
What is a custom domain?
With Buckaroo's custom domain functionality, you can now customise your checkout URL. This URL will be derived from your custom website URL. So if your website URL is covid19facemasks.nl, then your custom URL could be checkout.covid19facemasks.nl. Or you could choose an international version, such as pay.covid19facemasks.nl. Of course payment.covid19facemasks.nl is also an option. It doesn't necessarily have to be a .nl-domain. If you have a .com, .be, .eu, .shop or a different extension, then this is copied. For the custom domain URL is derived from your own website URL.

What are the advantages of custom domain?
Custom domain offers you the advantages of using a payment service provider: you can process encrypted and trusted transactions. Without having to compromise on your marketing and branding. You can design the checkout page according to your own unique style while using your custom domain name.
That is why custom domains are of great value to international webshops and businesses. Buckaroo has been an established name in the Netherlands for many years now, but in other countries it might not be common knowledge that we're a payment service provider. By using your custom URL, foreign customers will be less hesitant to share their credit card data.
Why choose custom domain?
When branding is key to your trust relationship with clients, custom domain can be beneficial. Think , for instance, of a major telecom company or a video streaming service, a football club with thousands of members, a charity or a wellknown public organisation.
Are you already using Buckaroo Smart Checkout? Then custom domain would be a logical addition. Custom domain is also often used by parties using Buckaroo Credit Management. For them, it is key that the recovery of unpaid bills is as smooth as possible. Custom domain can strongly contribute to this goal.
What are the costs involved?
The hosting of a checkout page with your custom domain name costs 150 euros a month. 
How do I get Buckaroo custom domain?
Want to get custom domain? Please contact your Buckaroo relationship manager. Or send an email to info@buckaroo.nl and we'll contact you as soon as possible.