Link your PHP website easily with Buckaroo's latest SDK
A gateway request to Buckaroo can be made in any way. But of course it's nice to have a ready-made 'kit' to integrate Buckaroo into your checkout. A kit containing the information to activate all popular payment methods to setting a ReturnURL*. This in-house developed PHP SDK (software development kit) is easy to use and can be downloaded for free via GitHub.

* More information about RequestURLs, push notifications and ReturnURLs can be found on our support pages.
All payment information for your PHP website
This software dev kit contains all the payment logic. Not only the link with various online payment methods, but also all of Buckaroo's services: subscriptions, credit management and marketplaces. But of course you only use what you need. The SDK also provides enough examples. We want to make it as easy as possible for developers to integrate the webshop with Buckaroo's checkout.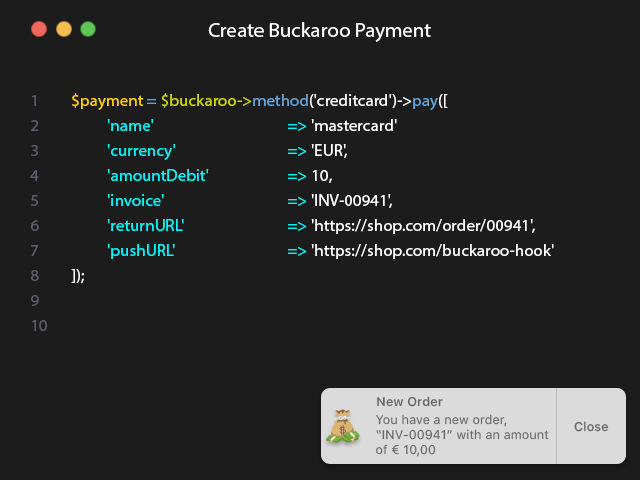 You decide the look and feel
You decide on the visual aspect at the front, in which you opt for a one-step checkout or a payment page with several steps on top of each other (accordion checkout). You can choose a checkout with the symbols of the various payment methods or the written version. In short, you decide what it looks like at the front end; we provide all the technology at the back end.
Download via GitHub
Start to receive payments
All you need is a Buckaroo account. This contains your personal website key and a secret key. With this, you can get started.
Updates free of charge
New versions are always available for free. Want to make sure you are always aware of new features or resolved issues? Star' ⭐ the page (top right) in GitHub so you'll be notified of updates.