Buckaroo introduces split-payments for online marketplaces
Utrecht, 26 October 2020 – Buckaroo has developed a customized payment solution for online marketplaces. This solution aims to solve the problem regarding regulations and provides an easy checkout of mixed baskets, for buyers as well as marketplaces. "We've noticed an increase in demand for split-payments."
Jelle Hoes, Chief Technical Officer at Buckaroo: "Software, security and licenses are just a few of the high costs online stores have to deal with. Online stores may therefore choose to join a marketplace. Or decide to start a marketplace themselves and let other online stores join in. Buckaroo can help marketplaces achieve this goal."
'Mixed baskets'
It is becoming increasingly popular in ecommerce to offer various suppliers on one single platform. Individual online stores either join a marketplace or start a marketplace of their own. The customer journey now often commences on a marketplace, with the customer purchasing products or services from different suppliers. This results in so-called 'mixed baskets' in the payment process. Subsequently, payment processor Buckaroo has noticed an increased demand for a solution for the processing of split-payments.
Regulations
According to new PSD2 laws and regulations, it is not allowed for marketplaces or platforms to receive payments and split these payments themselves amongst the multiple sellers. Only a payment institution is allowed to process split-payments, and such a licence is not easy to obtain. Marketplaces need a Payment Service Provider to process their payment flows. Jelle Hoes: "As a marketplace, you have to decide whether you want to process payments yourself. Starting a marketplace comes with serious challenges already. Such as drawing up your admission policy: which suppliers will be allowed to join your marketplace and under which conditions?"
Features
Buckaroo is an all-in-one shop for payment transactions: for payment up front (the checkout where the buyer makes a payment) as well as payment at the backend (paying out split-payments to sellers). A unique selling proposition of Buckaroo's marketplace payment solution is that marketplace owners have total control of the timing of the payout to an affiliated seller. For example, after it has been confirmed that the buyer has received the product. Or as soon as the return period for the product has expired. Hoes: "We predict a bright future for online marketplaces and are more than able to support entrepreneurial marketplaces in managing their payment strategy."
Want to know more?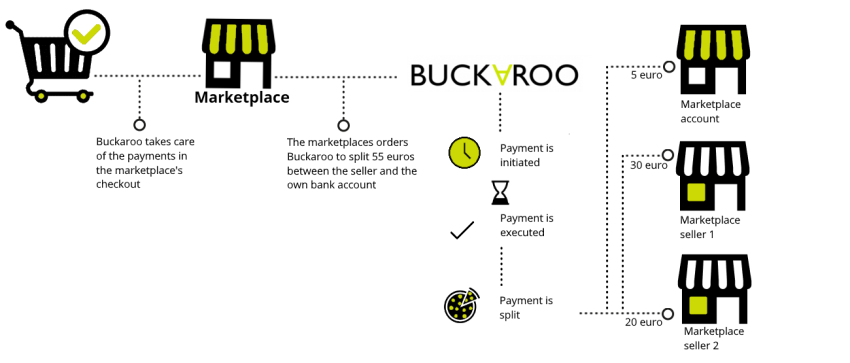 Buckaroo and MT MediaGroep have jointly written a whitepaper about how to start a marketplace. You can download the whitepaper for free via the button below.
Whitepaper: Towards an online marketplace
Open your webshop to other parties? Read more about it in our whitepaper.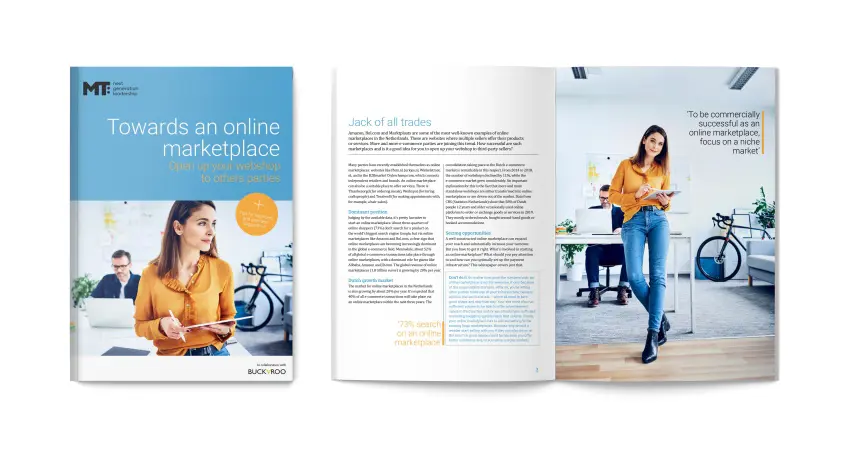 Open your webshop to others
In this whitepaper you can read about the opportunities and challenges of starting an online marketplace.