The State of online Dutch consumer market – report by Tinka
According to the latest report by payment product Tinka online shopping is something the Dutch population is clearly comfortable with across a broad demographic range. The most popular areas for purchases are fashion, footwear and electronics, while cars & bikes, education and travel account for the greatest spend overall. It is also very encouraging for online businesses to note that Dutch consumers spend an average of over €5000 online every year.
Consumer Research 2022
In July 2022 Tinka, a Buy Now Pay Later provider did research among 1000 Dutch consumers from across a wide, representative range in terms of age, gender and location. They gathered insights into the latest current behavior and opinions of Dutch consumers when it comes to online shopping. What do they buy? When do they shop? Where do they shop? How do they pay? And what are their feelings towards sustainability and return policies?
In short
The research shows, for example, that last year Dutch consumers spent an average of more than €5000 online – with fashion, footwear and electronics being the most popular items bought. It also showed that there is a preference for online stores and that younger consumers are more likely to do their shopping in the evening or on the weekend. And the final research results address how Dutch consumers choose to pay for their products. Concluding that, while iDEAL and PayPal remain the favorite means of payment, there is a clear trend away from traditional cards and towards reliable and sustainable deferred payment services.
How consumers want to pay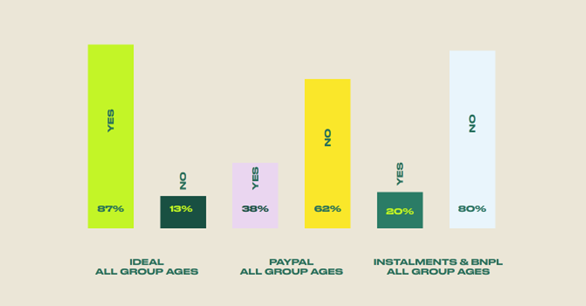 Pay in installments or later
When it comes to financed shopping research initially shows that only a small percentage of shoppers choose this means of payment. However, further investigation of this figure reveals some interesting findings. Firstly, while the percentages of age groups using installment services only peaks at 26% in the 25 to 34 age bracket, further questioning revealed that consumers had in fact used deferred payment services, such as Pay in 3, without considering them to be installments in the traditional sense. A continued and rising preference for such credit facilities is to be expected in the coming years.
It also became clear that while many consumers were effectively prepared to 'split' their purchase by means of using credit cards (20%), they offered various reasons for not using other installment methods when clicking Pay Now. These included not having seen the option (21%), a lack of confidence (16%) and not understanding how it worked (also 16%). Given that 16% of respondents stated that they lacked confidence in a BNPL offering, it would seem that working with a trusted brand is of essential importance.


Benefits of Buy Now Pay Later services
The advice of the report would be to look into BNPL-products for Dutch eCom, as financed shopping is most likely to increase sales revenues. By highlighting such payment services by means of banners, calculators and other explanatory elements, merchants have a clear opportunity to provide potential customers with a further avenue to buy their products, according to Tinka.
Want to read more into The State of Ecommerce in The Netherlands and get tips on how your business can benefit from the report's insights? Download the report here.
About Tinka
With over 1 million active customers, Tinka has been active in the Dutch financial services market since the 1960s. The company is supervised by the Netherlands Authority for Financial Markets and prides itself on providing its many happy customers with responsible Buy Now Pay Later (BNPL) credit services. Unlike other players in the market, Tinka is the only provider to offer a full range of deferred payments solutions; including Pay in 14 days and Pay in 3 as well as both 12 months' and 12 months'+ consumer credit
Disclaimer: the company is well aware of the debt problems that this type of online shopping can cause. Therefore Tinka is careful in their algorithm who and in which circumstances is allowed to use their pay later service. In response to the EU's new Credit Directive Tinka has been lobbying for increased regulation for BNPL.
Source: October 2022, State of eCommerce in The Netherlands. Whitepaper by Tinka.